Blinds, Shutters and Shades
BLINDS, SHUTTERS & SHADES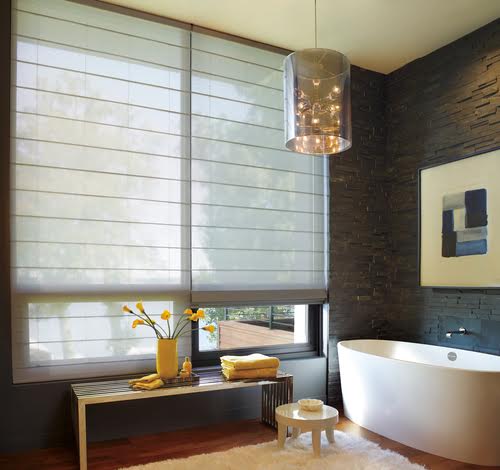 Have you thought about using blinds, shades or even shutters on your windows?
This family of window treatments offers a lot of options. If you have considered drapes, but want the option of more light, retaining a beautiful view or filtered light then take a look at the Hunter Douglas window treatment options.
You can buy cheaper window treatments, but they may have some problems. Ask yourself these questions about any window treatment you're thinking of purchasing.
• Does the company offer a lifetime guarantee?
• Are the lifting mechanisms made without the loose cords that strangle 12 children a year?
• Does this product qualify for an energy efficiency tax rebate?
Hundreds Of Options
Picking out window treatments is fun. Hunter Douglas makes each item to order and they offer many, many options. They manufacture them to the exact needs of your windows and your style.
• Color: Hunter Douglas offers many colors that that are organized by family.
• Opacity: Do you want light to come through or keep the room dark?
• Pleats: Do you want your shades to have pleats? If so, choose a size.
• Operating System: Will these window coverings be motorized? Do you want the option of opening them from the top down?
• Material: Do you envision your blinds in wood? How about your shades in woven wood?

Sorting Through the Choices
We only sell Hunter Douglas blinds, shades and shutters because they make the best product available. We value American-made products and appreciate that they have a factory right here in Colorado. We also hand select our installers and coordinate the installation with your schedule. We make sure it gets done right.
Our designer, Theresa Guthals, has been working in interior design for more than 30 years and has designed hundreds of window treatments. She brings samples and swatches, as well as her experience to help you choose options that bring your vision of your dream home to fruition.
"[Theresa] came to my home and showed me various types of treatments that I might like, particularly ones that were not available on a wide scale market like big box stores. She helped me pick out a type that was simply just perfect for my room." – rkymtmx, client review on Houzz
Take a look at some of the designs Theresa has done for clients.
Call us at 719-238-6044 or send us a message when you're ready to begin turning your home into your dream home!
Would you like to know more about window treatments? Sign Up for our mailing list and receive our report, Window Covering Basics – All About Drapes, Blinds, Shades and Shutters!




error:
Content is protected
25% off regular retail on designer fabrics for custom drapery!