Custom Drapery
Custom Drapery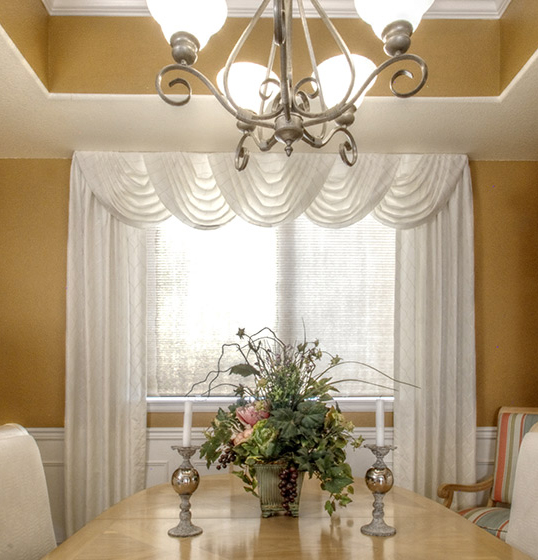 What do you want for your windows? What do they look like in the home of your dreams?
Get Exactly What You Want with Custom Drapery
Many people rely on ready-made drapes and big-box store curtain rods to cover their windows, but the selection is very limited. You may save money in the short term by buying something inexpensive, but it probably won't be the right size or shape. The fabric may not meet your needs for letting in light and cheap rods may not hold up in the long term.
We can make exactly what you want with custom drapery. Do you have a particular fabric in mind? We can make drapes of exactly the right size and shape with it. Do you have a large, dramatic window? We can make drapes that enhance the drama. Do you have an oddly shaped window? Custom drapery can control the light while retaining the visual interest.
Before and After Custom Drapery Design
Sometimes people buy ready-made drapes because they are inexpensive and you don't have to worry about spending a lot of money on something you ultimately don't like. We have a better solution. We offer a before and after custom drapery design service so that you won't have to guess what your custom drapes will look like.
We can show you what your custom drapes will look like before you even place the order! Once you've chosen your fabric and a design, we take the measurements and create a digital version.
You can place your order with confidence!

How It Works
Our designer, Theresa, will show you fabric samples and offer ideas for the design. She will also help you coordinate the drapery with an appropriate rod. The rod is more important than many people realize. They are rated for weight and an inappropriate choice will shorten the life of the drapes.
Theresa will also tell you about technological options for your window treatments. Custom drapery can be motorized and automated to open and close on a schedule or at the touch of a button.
Once you've made your choices, Theresa will design them and show you on the computer what they will look like. If you don't like them, she'll go through this process again until you are satisfied.
Theresa will take the measurements of your windows and place the order. She manages the entire process, including ordering the correct hardware. You won't have to find an installer either, she will make arrangements with one of our hand-picked installers and coordinate the installation time with your schedule.
Our goal is simply to make it easy for you to turn your house into your dream home.
Our Guarantee
Still nervous about what could go wrong and thinking about buying cheap ready-made curtains? You'll be interested to know that we guarantee your custom drapes will fit. If they don't, we cover the cost of having the correct size made.
"Theresa guided me with wonderful quality options for our drapes and hardware that have made a gorgeous impact in the room. I could not be happier with the results. Beautiful quality products installed by pros make such a difference in the mood of the room." – Julie Hahn, Client
Get Started Today
Theresa has been working in interior design for more than 30 years and has designed hundreds of window treatments. She brings her experience to helping you avoid costly mistakes and making your house into the home of your dreams.
Take a look at some of the draperies Theresa has designed for clients.
Call us at 719-238-6044 or send us a message. Custom drapery takes some time to do right. If you have visitors coming or a party in the future, don't delay!
Would you like to know more about window treatments? Sign Up for our mailing list and receive our report, Window Covering Basics – All About Drapes, Blinds, Shades and Shutters!