What to expect
What to expect

IN-HOME CONSULTATION
• We arrive with 100's of product samples.
• You will have the opportunity to see, touch and examine each product in your home until you find that perfect fit.
• Professional and experienced installation.
• DreamDraper® digital design software allows you to visualize exactly how your windows will look before you buy! (MORE BELOW)
• In most cases, you will know the exact price of your selections before we leave!
THE DESIGN PROCESS
• We interview you by phone to see what your style, color and ideas are.
• We schedule an appointment with our designer
• We bring a selection of sample books, fabric, trim, hardware along with design ideas from our own portfolio.
• We discuss your design objectives and budget
• We work together to find the best ideas for your home.
• Love your selection before your purchase it!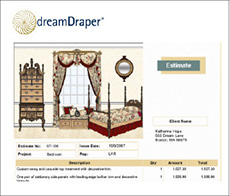 VISUALIZING YOUR DESIGN
Visualizing your design is easy with the help of our DreamDraper® computer rendering software. You can see your choice of fabric, hardware and design so you can see what your window treatments will look like on your windows. Then, adjustments can be made so the final result meets your expectations. (LEARN MORE)