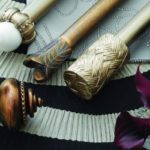 When you look at the motorized window blinds or custom drapes in your home, remember to see them for what they are … the pinnacle of window covering technology!
People have liked to have windows in their homes since humans moved out of caves. Windows let light in and keep our homes from becoming dark and damp, but they also let in dust, cold and, during periods of social strife, even bandits! The question of how to control what goes in and out of our windows is an age-old concern.
The Greek and Roman empires left us with some history of how that question was answered. The Greeks are credited with the invention of the window shutter. They made the shutters out of marble to keep out the hot Mediterranean sun. These must have been very heavy and the idea really drives home our designer  Theresa's assertion that shutters should be seen as a piece of fine furniture.
The Romans had their own problems. Not only was it hot, but their cobblestone roads were dusty, making it very difficult to keep a house clean. The process of building their famous stone buildings, like the Coliseum, also produced a lot of dust and Roman homeowners needed a way to keep their windows covered. They came up with the idea of hanging pieces of wet cloth in the windows to catch the dust and cool the hot air. In time, inventors developed a way to pull these cloths up and down with a cord in a way that made the fabric fold up evenly. Today, this is known as the Roman Shade.
In the Middle Ages, Europeans had to solve different problems. The northern climate is not as hot, but homes and communities had to be protected against attacks. They developed the Security Shutter, a shutter held closed by an iron bar. They also built castles and palaces that needed suitable decoration, resulting in the widespread use of elaborate treatments, such as the Festoon and the Austria blind, both of which were updated versions of the Roman shade.
The use of window glass became popular in the late 16th and early 17th centuries, but those palaces still needed custom drapes. Many of the dramatic shapes and valances we use today are based on those installed in the 18th and 19th palaces of Europe.
Today, most people prefer simpler custom drapes, at least in Colorado Springs. 21st century homeowners are also concerned with energy conservation, which is why solar shades and cellular shades were developed. We have more versatile fabrics than our predecessors too.
We can only imagine how helpful motorized drapery rods would have been in a European castle. It's too late for King Louis XIV, but we can still design something beautiful and functional for you. Call us today!