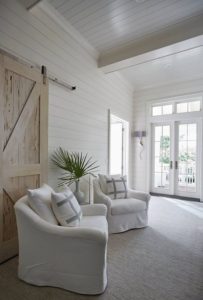 Did you see the Parade of Homes this year?
Every year, the Parade of Homes showcases beautiful high end homes built in Colorado Springs. Not only do we see the latest in architecture and floor plans, but the homes are also decorated in the most cutting edge styles.
Modern Farmhouse Has Come to Colorado Springs
In 2017, we saw Modern Farmhouse decor in many of the homes. What is Modern Farmhouse? It's Heritage with a twist.
Color & Texture in Walls, Floors and Furniture
Taupe, gray and wood tones are used for floors and furniture.
Bedrooms and baths are painted with more color, like peacock blue and navy.
Shiplap (a rustic-looking, horizontal paneling) is popular.
Designers are using large-print wallpaper in baths and powder rooms.
Cabinets & Fixtures are Changing Color
Cabinets are white, espresso or a combination of the two.
Another trend seen in bathrooms is the floating vanity, a vanity that is secured to the wall and doesn't touch the floor.
Gold fixtures are coming back, but the gold is different. Faucets, lighting fixtures and hardware are being made in a champagne, brushed gold.
Accessories Look Natural & Less Sophisticated
Upcycled accessories are being shown in the home.
Natural materials with an organic feel give a room some softness.
The Parade of Homes can be an inspiration for homeowners wanting to update their homes. Keep in mind that your home should reflect your taste and personality. You don't have to throw out everything you love and replace it with the latest thing. We can keep what you love and still make your home look more current.
We can make sure your home is beautiful, current and a place you love to spend your time. The Parade of Homes is fun and inspiring, but your home is your sanctuary and we want to help you love it. Call us today for a consultation!
Would you like to know more about window treatments? Sign Up for our mailing list and receive our report, Window Covering Basics – All About Drapes, Blinds, Shades and Shutters!