Custom Window Treatments in Colorado Springs: Blocking Sun Damage Without Blocking Your View
A client called us once with an urgent request. An art restoration specialist had come in to clean a priceless oil painting in her house and noted that the beautiful sunshine that lit up the room was also causing the oil paint to deteriorate. She needed custom window treatments for our Colorado Springs high-altitude sun that would screen out the UV rays as soon as we could get them made!
This sort of damage happens to more ordinary furnishings too. Our Colorado sunshine streaming through your windows makes the room beautiful, but the same UV rays that sunburn skin also damage wood floors, bleach the color out of fabrics and even cause wall hangings to fade. Heat generated by the greenhouse effect, in which glass lets the sun's heat into the room but not out again, also has a detrimental effect on the materials in your furniture, window treatments and floors. That's why it's so important to work with an expert when choosing your window coverings. We know how to tailor the window treatments for your region. The right choice of custom window treatments in Colorado Springs' high-altitude climate and thin air can significantly slow the sun's damage and enhance your enjoyment of the room.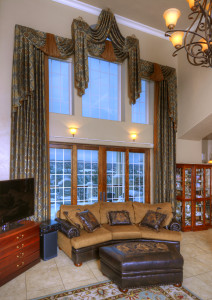 One of our favorite window coverings for use here in Colorado Springs is Hunter Douglas's Pirouette shades. This window treatment has horizontal fabric vanes connected by a sheer, UV-filtering fabric and screens out 85% of the damaging UV rays. The fabric doesn't obstruct your view and it allows light in, taking advantage of the beauty of the Colorado Springs sky and landscape without destroying the rest of the room. Since Pirouette shades can be constructed with a wide variety of colors and fabrics, we can even repeat inside the room the colors and textures you love about the outdoors.
Not only are Pirouette shades perfect for our climate, but they are also made in Colorado. Hunter Douglas has a factory in Broomfield where your shades are manufactured to your specifications, including size, fabric and color, after you order them.
Contact us to pick out the perfect window treatments for your home in Colorado Springs. We are local experts in window coverings and can help you choose treatments that look beautiful and protect your investment.